Liaisons
Katie Burles, Board Liaison

Katie is a Geology and Geography Instructor at the College of the Rockies (COTR), Cranbrook, BC. She grew up exploring small creeks and swimming in the lakes of the South Thompson watershed near Chase, BC.  Her formal education includes  M.Sc. and BA degrees in Geography.  Conducting field research and monitoring has provided her many opportunities to explore remote areas of the Yukon, BC, and Alberta during all four seasons. This fuels her desire to spend more time in the outdoors and show her son the wonders of the natural world. When not in her waders fishing, she can be found canoeing, hiking, or gardening.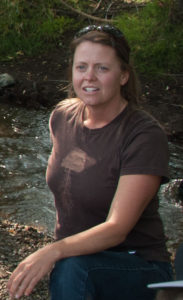 Leigh Cormier, Board Liaison
Leigh teaches Geography and Outdoor Skills at Mt. Baker Secondary in Cranbrook, BC.  A Mainstreams' Board member from 2015-2016, she decided to become a Liaison because of her busy schedule coupled with her becoming a mother!