Staff
Jim – Executive Director
Jim has been employed as a research tech. at UBC, a  Jr. High School librarian and a College Librarian. He provides curriculum development, grant management, project coordination and communication services.
Laura – Technical Director
Laura has been working in the environmental sector since 1970 and has many years expertise in environmental effects of mines and ecosystem restoration.  She provides technical support for the Water Quality Monitoring Program as well as Mainstreams varied educational programs.
Dave – Water Education Instructor
Dave Quinn is a Kimberley-based outdoor educator, wildlife biologist, and wilderness guide. He is a BC-certified teacher and award-winning natural history author and photographer.  Dave designed Mainstreams' Climate Change Adaptation and Mark Creek Flume Restoration Programs.
Patty – Water Education Instructor
Patty has a B Ed and a B Sc (Kinesiology and Public Health).  She is CABIN and Streamkeepers certified and has 20 years experience as an Outdoor Education teacher.  Patty designed the Macro Invertebrate Ecology and the Beaver Programs for Mainstreams.  She is currently working on designing Mainstreams Wetlands Program.
Kim – Water Education Instructor
Kim has MA in Environmental Education and Communications, and a varied background in community engagement, program development, and volunteer management. New to the Kootenays, Kim brings with her over 10 years of experience leading programs for all ages, and a passion for connecting people with the natural world.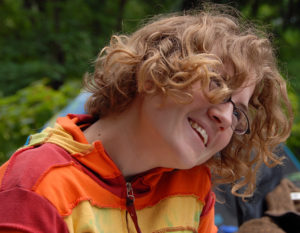 Shannon – Event Management, Communications
Shannon coordinated the establishment of community gardens in both Cranbrook and Kimberley.  Owner of Purcell Organics, Shannon creates wonderful teas and also specializes in creative flower arrangements for weddings and special events.  Shannon  guided Mainstreams Streamer 2017 and 2018 programs.